Enjoy an unforgettable 3 1/2 hour 4WD journey across 3 privately-owned farms with 6000 sheep, 400 cattle and 40 horses in Ohariu Valley. These farms also have Wellington's newest wind farm, with 26 wind turbines powering Wellington City.
Our tours are for small groups only 2-6 people, so you will get the opportunity to ask your tour guide, Ward (who is also the farmer of the land) many questions and receive an authentic experience of farm life in New Zealand.
We offer a pick up and drop off service from Wellington Railway Station, Wellington CBD hotels and Wellington i-SITE centre. Or drive out to Tussock Ridge Farm yourself for a discounted rate.
Stops on the tour include feeding wild Kaimanawa horses, wild eels, standing under a 111 metre tall wind turbine and morning tea at our Shepherd's cabin located on the cliffs overlooking the Cook Strait and South Island with some of the most spectacular views New Zealand has to offer.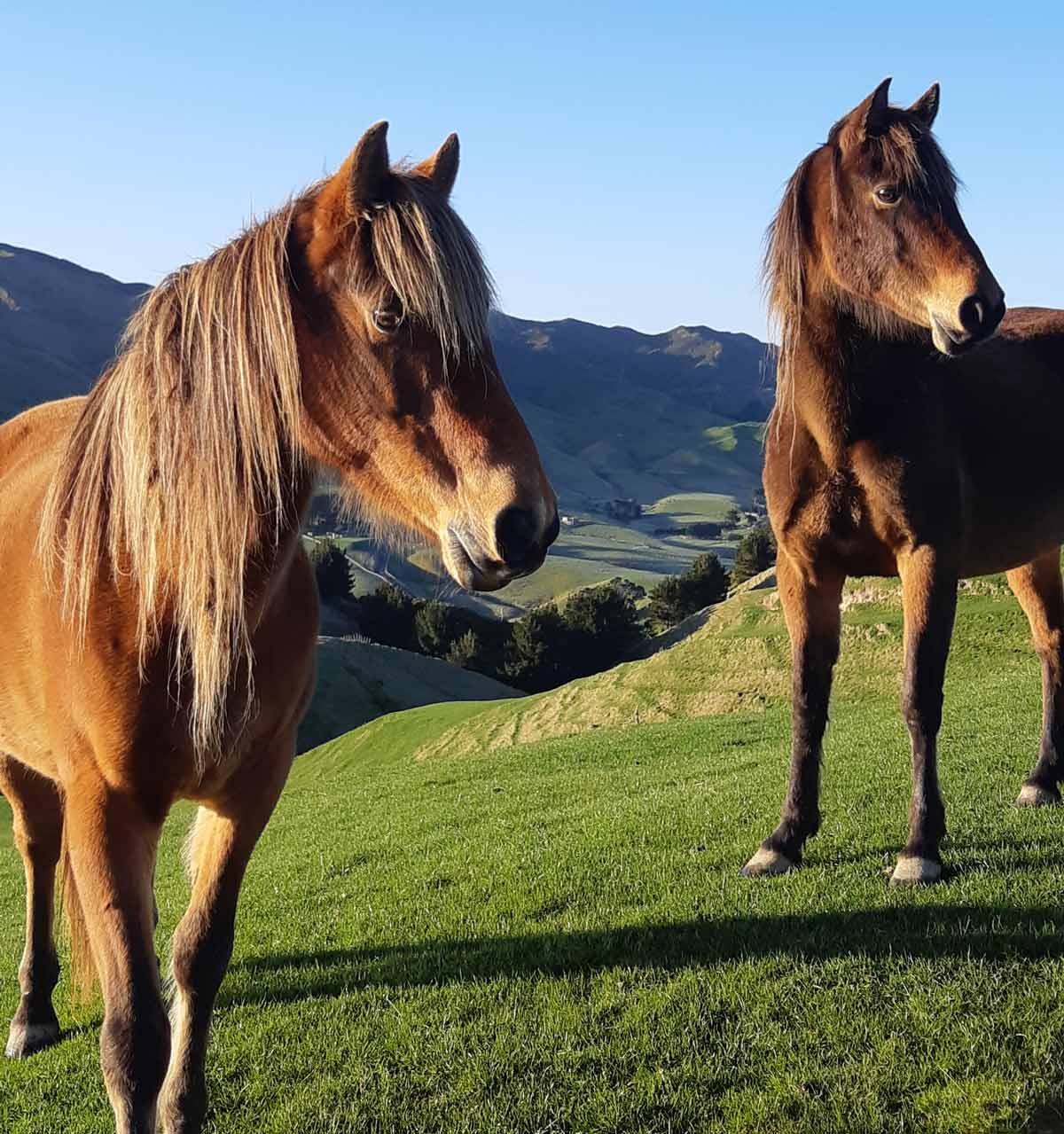 Meet Our Wild Kaimanawa Horses
Kaimanawa Horses are wild horses native to New Zealand. We are lucky enough to have a herd of 20 horses on our farm and part of our tour will have you feeding out hay to the herd. Our Kaimanawas are descendants of the first wild horses discovered in NZ back in 1876.
Learn More
"My husband and I and our friends from Florida took this tour together after I had read the reviews on TripAdvisor. The four of us met over 25 years ago working in the travel industry, and needless to say we have been on many tours in many cities across the world together. Our day with Ward, the owner of Tussock Ridge Farm, will go down as one of the most memorable tours we've ever done.
We got to feed wild rescue horses, see innumerable sheep, learn about and get up close to the wind farm on the property— which was incredible, and hang out with Mr. Bumpy, the sheep who thinks he's a dog. The level of commitment and hard work it takes to have a farm like this was evident, and the way Ward interacted with the animals was pure love. Today, as we toured wineries in Marlborough, we reminisced about yesterday's tour of Tussock Ridge and all agreed we will be talking about our day there for years to come! Thank you Ward!"
– Laura, 2019
Read more testimonials